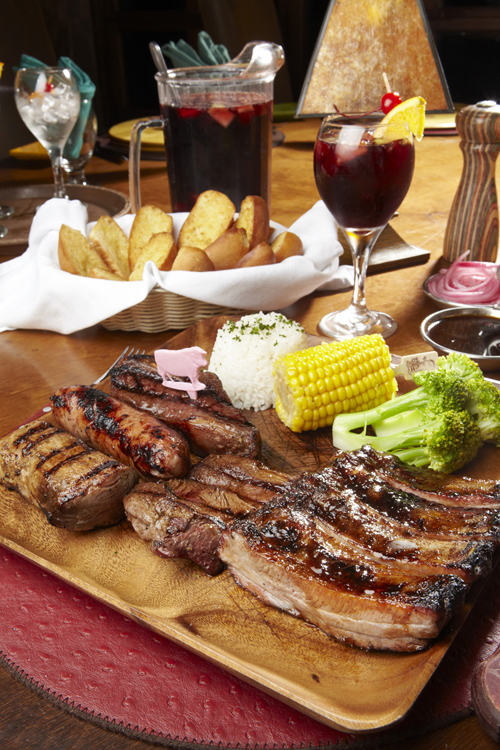 Our Argentinean meats are carefully selected to match the fine taste of our customers. We appreciate your company and wish you a pleasant time and Bon Appetite!
El Gaucho Restaurant serves a variety of tempting dishes, featuring Argentine steaks, the famous Gaucho steak, Pincho Torro Caliente, the biggest shishkebab ever served, T-bone steak, veal chop and more.
All dishes are served with potatoes or rice, vegetables, corn on the cob and garlic bread.
Expanded Wine List!
We would like to announce that we have greatly expanded our
wine list with new and exciting wines from regions and wineries
from around the globe.
Entradas / Appetizers
Coctel de Camarones/ Shrimp Cocktail
Camarones al Ajillo/ Garlic Shrimps (head on) pan-fried with roasted garlic puree
Calamares Buenos Aires/stewed Squid Buenos Aires with peppers, herbs, onions and sherry wine
Caracoles al muelle/Conch Harbor-Style prepared in a seasoned batter and sautéed. A local favorite
Costillas de lechon/Pork Loin Ribs meaty and juicy ribs grilled served with our homemade rib sauce. full slab (Great for sharing!)
Mini Pincho de lomito/Tenderloin chunks with vegetables on a skewer
Chorizo & Morcilla /Grilled pork sausage and blood sausage
Empanadas Argentinas / Hearty Beef pastry (2) stuffed with spicy ground tenderloin beef, chopped vegetables, olive and a slice of boiled egg
Mollejas/ Grilled Calf Sweetbreads
Ensaladas / Salads
Ensalada Pequena/Mix Side Saladwith choice of dressing
Cuarto de Lechuga/ Ice berg Wedge topped with blue cheese dressing, crumbled blue cheese, bacon, toasted walnut & diced tomatoes
El Clasico Ceasar/The Classic Ceasarromaine lettuce, home made croutons, anchiovy, shaved parmesan and homemade ceasar dressing. With Shrimp or grilled Chicken
Ensalada de Aguacates /Avocado Salad (seasonal) Sliced Avocado with thinly sliced cucumbers and red onions in a fresh lemon vinaigrette
Salad dressing available: Blue Cheese, Italian, Thousand Island, Ceasar and Balsamic Vinagrette
Sopas y Cremas / Soups
All our soups are made daily with fresh vegetables and homemade broth. A touch of cream
and fresh parmesan cheese is added to the creamy soups.
Sopa de Carne y Legumbres/Beef and Vegetable Soup
Crema de Zapallo/Cream of Pumpkin
Crema de Broccoli/Cream of broccoli
Carnes a la Parilla / From the Grill
Churrasco Argentino / The Gaucho Steak juicy, tender & lean.
One pound of Premium Argentine Beef, natural grass fed
Parrilla Argentina / Argentine GrillSpecial dish from Argentina: consisting of 5 different selected meats: Tenderloin,
Argentine Chorizo, Ribs, Pork Loin & Beef Short Ribs.
Bife de Chorizo/Sirloin steak 18 oz very tasty, untrimmed and well marbled
*Ojo de Bife/ Rib Eye Steak 16 oz of well marbled, Premium Certified Natural Black Angus Beef
*Ojo de Bife con hueso / Bone in Rib Eye 32 oz Certified Black Angus Beef, full of flavor, untrimmed, well marbled. Exquisite!
Pincho Toro Caliente / Argentine Shiskebab Grilled Tenderloin, Chorizo, Pork Tenderloin and char grilled vegetables on a skewer
Entraña /Skirt Steak juicy 10 oz strip of Premium Certified Black Angus Beef
Asado de Tira / Beef Short Ribs A typical Argentinean cut, firm y tasty, char broiled to your taste.
*Bife Costilla Ancho / T-Bone Steak 32 ozUntrimmed and well marbled, highly recommended.
*Bife de Filete / Porterhouse 38 oz and up A beautiful combination of Tenderloin and Strip steak, for the beefeater, it is unforgettable
Bife de Lomito 12 oz / Tenderloin Steak 12 oz Prime center cut of Premium Argentinean Beef. Tender, juicy and lean
Bife de lomito 8 oz /Tenderloin Steak petit cut 8 oz
Lomito de Lechon /Pork Tenderloin 12 oz well seasoned with 5 spices, very tender and juicy
Costillitas de Cordero / Grilled (whole) rack of lamb New Zeeland spring lamb, marinated in chimichurri and grilled.
Pork Loin Ribs grilled & basted with or homemade sweet and tangy bbq sauce
Tenderloin Trio, 4oz each of Argentine Tenderloin, Pork tenderloin and New Zeeland Lamb tenderloin
Parrillita para dos/Mini Grill for Two (only one grill per table)
Served at your table with a selection of cuts: chorizo, morcilla, Beef tenderloin, Beef short ribs, Chicken breast and Ribs. Accompanied with two sides of your choice, soup or salad as appetizer and a dessert combination for two. A bottle of wine or garafe is also included.
*These cuts are juicy and full of flavor because they are well marbled. Don't order them if you want a lean cut of beef.
Our Beef is carefully selected, cut and weighted daily by our butcher, as you can notice mostly are big and thick. Please allow time for the grilling of these cuts.
Ad a Grilled Caribbean Lobster Tail to your main dish.
Pollo / Chicken
Pechugas de pollo al Llanero / Chicken breastdone over coals, juicy and lean
Mariscos / Seafood
Langosta al asador/Grilled Caribbean Lobster Tail served with drawn butter, Smashed red bliss potatoes, broccoli and fried plantain
Grilled Chilean Seabass with herb butter or lemon caper sauce
Pescado del dia/ Catch of the Day served with creole or meuniere sauce
Camarones al Ajillo/Jumbo Shrimp Scampi smothered in roasted garlic puree and pan fried
Caracoles al Muelle/ Conch Harbor Style ( kalko) prepared in our signature batter and sautéed. Locals favorite
Combinacion del Mar/ Caribbean Seafood Combo a sample plate of: conch, squid, shrimp and fish, each prepared as described above.
Filete de Salmon/ New Zeeland Salmon fillet 8 oz grilled and served with lemon herb butter
Surf and Turf 6 oz grilled Tenderloin & two Jumbo Shrimps Scampi
Lolas Combo Combinacion de LOmo y LAngosta al asador/ Grilled Caribbean lobster tail (4oz) and Prime Argentine Tenderloin (8 oz)
Acompañamientos/ Side items
Please make your selection from the list below, 3 sides included
Home style potatoes
French fries
Steamed broccoli
White Rice
Corn on the cob
Fried Plantain
Smashed Red bliss Potatoes with chives and butter
Sautéed Mushrooms
Broccoli sautéed in olive oil & Garlic
Additional cost for extra item selected from the list above
Vegetarian
Grilled Vegetables Kebab served over a bed of ricesautéed broccoli, home style potatoes & corn on the cob
Dessert & Kids Menu
To view the dessert or kids menu please click the button below.
All dishes are served with potatoes or rice, vegetables, corn on the cob and garlic bread.
Seafood dishes include also fried plantain.
(All prices are in US dollars. Service Charge 15%)
---